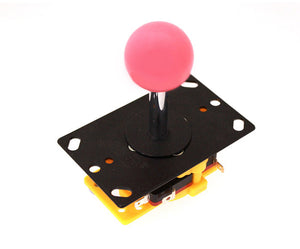 Kitronik
Arcade Joystick - Medium Handle
Regular price
$9.00
Sale price
$12.00
Unit price
per
A medium sized, ball-handled, Arcade Joystick, universally compatible with a wide range of products including arduino boards.
The joystick uses four micro-switches that can be used to detect 8-way movement, and is ideally suited to the construction of simple games and devices.
Features:
8-way movement, for full control of output.
4 micro-switches to detect on/off.
Simple, easy to fit design.
Spring return to centre.
Rugged construction, can withstand heavy usage.
Switch ratings: 5A at 125V DC, 3A at 250V AC.
Contents:
1 x Medium Sized, Ball-Handle Joystick.
Possible applications include:
Arcade Machines.
Remote Controls.
Dimensions:
Length: 61mm.
Width: 95mm.
Joystick Height: 75mm.
Overall Height: 105mm.
---