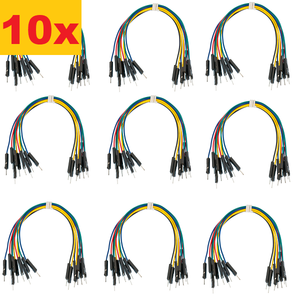 Fair Chance Learning
Male to Male Jumper Cables Club (10 pack)
Regular price
$15.00
Sale price
$20.00
Unit price
per
MORE COLORS AND MORE CHOICES FOR YOU: Each package comes with 10 colors by 10 pieces each, NOW with 20% MORE Red and Black Jumpers for power lines. We male to male, male to female and female to female Jumper Wires with length 4''/6''/12''. These Jumper Wires work great with Arduino Breadboards Raspberry Pi and really any 0.1" pitch prototyping boards.

MAKES PROJECT EASY: Solid quality product that makes quick jumper connections on a breadboard very easy. They will become your go-to for quick connections compatible with Arduino or FPGA board and breadboard.

PRE-MADE JUMPER WIRES: Their ends are solid, at the right length and proper diameter to fit in the holes of your breadboard. This makes it very easy to build or change configurations on your breadboard.

WHAT YOU WILL GET: You will definitely receive high quality Jumper Wires.
---